About us
" A R M A U T H O R"
"ARMAUTHOR" is a Non-Governmental non-commercial organization founded by creative intellectuals. On 19 January 2001 the Non-Governmental Organization "ARMAUTHOR" was registered by collective decision No 119 of the Ministry of Justice of RA. The Organization executes its activities on the bases of its Statutes and the routine.
The main objectives of "ARMAUTHOR" are:
Collective administration of economic rights of authors in the cases when their practical execution in individual way is impossible.
Protection of authors' interests (their successors), presentation of the legitimate interests in the court, in governmental and non-governmental organizations.
Being registered in the Ministry of Justice in January 2001 "ARMAUTHOR" became a member of the international confederation of authors CISAC /Paris/ already in December 2001.
The Organization has signed reciprocal cooperation agreements with forty three foreign similar organizations.
"Armauthor" co-operates with Ministry of Culture the Republic of Armenia,
AIPA / Intellectual Property Agency of the Republic of Armenia/,
WIPO, UNESCO and other organizations.
"ARMAUTHOR " is one of those unique organizations in this field, the main function of which is the solution of any issue relating to the authors rights and execution of protection of authors' interests.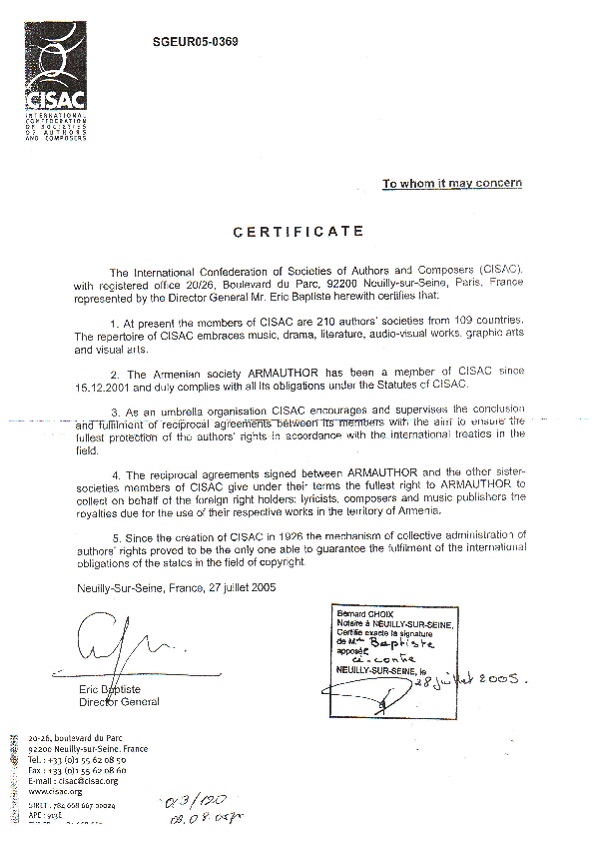 Hambardzumyan Marina Ales